Ah, that wonderful time when the hyacinths, forsythias, and of course the Easter lilies announce the beginning of Spring and the celebration of Easter. This year the blooming trees and azaleas have added to the beauty of the occasion. I'm not a real religious person any more but the meanings of Christmas and Easter have not been totally lost. I enjoy the process to prepare for the celebrations.
When I was little the best parts of Easter were of course dying the eggs, searching for our Easter baskets and dressing up for church. Oh, I shouldn't forget our dinners. The worse part of Easter was my mother insisting that we have our pictures taken. By the way, I don't ever remember a warm Easter so I was freezing while trying to smile for the camera. On the other hand I've had time to reconsider that and think that maybe I just didn't and don't like my picture taken. As you can see the event started within my first year of life.
I don't have a picture but I bet you I even got an Easter basket which my father probably helped me eat all the candy.
I was moving the second year.
It must have been really cold outside or else my mother took mercy on me and took the pictures inside.
Years went by and similar pictures were entered into my mothers pictorial journal of her life. I'm glad she took the time.
I've always loved hats but don't wear them that much because they flatten my already bad hair.
I remember this year. It was cold! I think there is only one picture because of that.
Look at those forsythias in the background. I can just smell the hyacinths my mother had planted around the yard. It's amazing how photos can stimulate other senses.
Ah, the years went by and we grew up and had our own families in which traditions were carried on. The kids came along and…
Ah, another one who didn't like Easter pictures. What can I say?
I was sure the kids would receive the proper religious training. Yep, I taught Sunday School and the other parent with me helped raise the class size to the point that the other lifetime teachers wanted us out. Their kids were transferring into ours and the powers to be were about to eliminate their class. So upon recognizing that politics are no different in the church, I quit.
During the following years we dyed the eggs, ate the candy in the Easter baskets, went to church and then to my brother's for Easter dinner. The kids had a great time with the annual Easter egg hunt, playing games and enjoying the feast we had for dinner. That too came to an end so now my daughter has taken over having us for Easter. We don't do Easter baskets any more because everyone is on a diet and we don't go to church. We celebrate this special day in our own ways but always together at some point.
My hams never turned out like that.
Hubby helping :)
I brought treats. Although no one had to hunt for them.
They are really candy.
And then there was a lot of fun.
I think they like these kind of Easter pictures better. Even the runaway!
Hmmm…
Wow! Poor Jersey. Another who doesn't like Easter pictures. She'll learn.
We shared our nice day with my daughter's roommate's family and will do so again this year. I guess our antics weren't enough to drive them away.
Dinner was great and exciting.
Then it was time to just relax for awhile before calling it a day.
There was only one who was happy to see us all go.
At last!
As I said in the beginning, I love the preparations for this holiday so I thought I'd share some ideas with you.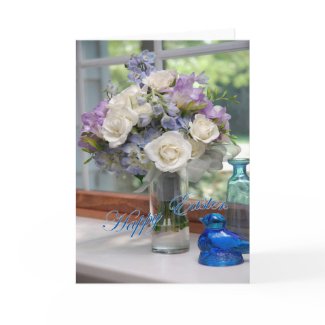 Bouquet Easter Card
by
Firecrackinmama
Check out some more great gift ideas
HERE!!