What can you say about Valentine's Day that hasn't already been said? It's a day to share love, flowers, candy and now technology. When I was young we made Valentine Day Boxes in school with the anticipation of receiving thousands of Valentine Day cards from our friends and classmates. It was a great project! My mother always made sure to give us a heart shaped box of candy and a card. Then as I grew older and had a beau flowers, cards and dinner became Valentine Day items. It has just always seemed like a great day to me.
This June hubby and I will be married 40 years and we went together five years before even marrying! That's a long time for two people to put up with each other. We've muddled through though. Everyone knows he's a great guy since he's put up with me. Maybe he's stayed because we've always lived on the edge and there's something new happening every day. That does get tiring at times, but after all at least we're living life not just existing. However with the economy as it is today we feel as though we're just existing.
I don't do this often but here's hubby!!
Yep, we were young at one time. Since he's been so good to me I had to design a special Valentine Day's card just for him:
Be sure to click on the card to see the special message inside.


Just how long we've been married has hit like a head-on accident – we're cleaning out the basement, garage and the attic. What has spawned this outrageous activity you may ask? Sweet accident number two is moving home. Yep, another casualty of lay off and statistic to unemployment.
Meanwhile the house looks as though a tornado went through it. In order to re-order with the old philosophy that everything has a place and everything in it's place means nothing is in it's place! The Christmas decorations may be down but they're all sitting on my dining room table. After sweet accident number three went through the multiple containers saved down cellar, she narrowed it down to two containers. The thought is that once things have been sifted through and become a decidedly keeper, the containers will go up in the attic. However they can't go up in the attic until it's cleaned out. It even gets worse. We can't get in the attic until the garage is cleaned out. That has all the stuff from my mother's house. Like three big army trunks from WWII. I'm filling them with projected yard sale items. It now also has furniture that has been in the basement for almost thirty years and is now awaiting Purple Heart to come take it – if they will. Sweet accident number one doesn't want to go through anything and we have everything of hers.
Sweet Accident #1 Sweet Accident #2 Sweet Accident #3
At any rate buried deep within the bowels of our house we found treasures that we had thought were long gone as well as masses of educational stuff, hubby's past business stuff, and of course all my printing business stuff. I guess an apple really doesn't fall far from the tree. I found all my yearly calendars dating back to 1972. Maybe now I can fill in sweet accident three's baby book. She's a bit peeved that it isn't complete. I don't blame her but at the time I was walking the fine line of sanity – three kids eighteen to two years apart? I may as well have had triplets and been done with it.
Other things of interest found were my teddy bear that is now sixty-one years old and still plays "Rock A 'Bye Baby"; a stuffed animal my mother made me; hubby's trophies from his Little League days and all our Girl Scouts and Boy Scouts camping thingies. Of financial interest, hubby has a baseball/football card collection that takes up over five large containers. I'm definitely starting a Blog to sell them off! He started looking through them and found some that are already valuable. Of course we wouldn't think so. After all we don't feel our age and cards that are now forty years old – hello they're valuable.
We saw all the sweet accidents yesterday. Sweet accident number two came by to help move the furniture up out of the basement. I thought hubby might have a heart attack but he survived – his back didn't though. All in the name of love. Sweet accident number three came with her significant other just as the last piece of furniture needed to be moved up the steps. We're definitely hiring guys to move sweet #2 in. During the time they were here sweet #3 went through some photo albums (she must have at least fifty) and year books from both high school and college while her beau offered to help me sort out and remove trash bags. He's a real nice guy but we're not telling sweet #3. Sweet #2 got lost in memories as he went through his things and kept everything! Sweet #3 participated via telephone to not go through things but came over later to secure the video camera.
Grandpuppy #1 has a bladder infection and evidently is annoying the neighbors in the apartment complex by crying all day while everyone is out to work. The spying is on for tomorrow to see if it's both grandpuppies or just grandpuppy #1.
Today's agenda is a continuation of sorting and cleaning out. What a way to spend your weekend. The Sweets should be very happy because as I cleaned out my mother's house I became a pro at sorting and keeping.
The one thing that tends to upset me is that I have a ton of educational things that no one wants. Why? Because everything is now geared around the technological devices and software available to provide a more real-word educational experience. I have to agree. There are some schools that have not advanced nor have their students. We keep trying to measure educational progress through antiquish ways. I bet if you tested the kids through technological devised tests they would be super techies!!! After all they've developed their own written language that even us old timers are learning just to survive. They have re-defined eye hand coordination through the multiple gaming devices available and can locate any place in the world using a GPS. They can text faster than anyone can type. Although some of the texts sent aren't quite right but hey the recipient gets a laugh and still understands. Kids know how to find porn, become street pharmacists and cure viruses through all the new technological advances. They actually speak a new language talking about Ram, Bytes, Memory and loss of, servers, etc. Us old folks know a ram as an animal, bites as eating and of course servers as someone serving. They can access educational apps and Internet sites that are better than some teachers. Oh, ok, I'm off topic. I'll jump down from my soap box and back to the day at hand.
I anxious to find more hidden memories today and throw out a lot of trash. Poor hubby, I'm off tomorrow and he'll have to put the trash out. Poor township, they're going to have a land fill of our trash to take away. In the deep recesses of my mind I think of all the wasted money – not! In the moment that the money was spent and the use we've gotten out of our purchases – we enjoyed and lived.
Have a Firecrackin Great Day!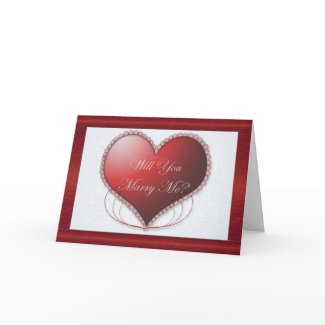 Red Satin Border Will You Marry Me Card
And there are plenty more ideas at
Zazzle
!