As May quickly approaches so does another year of graduates moving on from school to post-secondary education, vocational training or straight to work. As parents we ask ourselves where did the time go? Students, ah, graduation couldn't come fast enough. However I'm thinking about other types of parents and students whose lives have not been what we consider "normal".
For the past four years I've worked with a population of out of district students who have a variety of disabilities ranging from mild to severe. I've learned more about DVR and DDD than I want to know. As they near aging out at twenty-one years of age, the parents are not asking but screaming, "NOW WHAT??!!" Unfortunately I have no answer but I'm certainly working on one.
Students that have mild disabilities often find some type of work with a lot of help from their attending schools, family and DVR. With dwindling funds DVR services are dwindling. Students with moderate to severe disabilities rely on DDD. Those services are also withering away. So who is left to provide a life after school for these students? Parents.
When I first started working with the severe population I wondered about quality of life. How could they be a contributing member of society. I know now. I've observed their parents interacting with them and have learned more about unconditional love and caring. I've watched therapists and teachers go the extra mile to enhance communications. I've toured many schools and facilities to be sure my kids are getting what they need. It's become personal.
Gloucester County, New Jersey provides multiple private school options for kids who cannot handle a program within their districts. Gloucester County Special Services is a public separate school that services many of my students. I love going there and observing and participating with my kids within their programs. GCSSSD has an after 21 program called ACT I. However that is only open to Gloucester County residents. My kids don't live in Gloucester County.
The Abilities Center is also located in Gloucester County. It services my mild cognitive impaired students. They are trained in a sheltered workshop environment. Upon aging out they have an opportunity to continue there or seek competitive employment. It's great for the kids as they receive a paycheck and independent life skill classes inclusive of managing bank accounts, budgeting and finding public transportation. Again my kids live approximately 40 minutes away and because of their cognitive deficits, this is not really an option for them after 21.
HollyDELL rates high on my list for the severe students. Every time I go there I am more impressed than before. The kids there are wheelchair bound, cognitively impaired and many are on life support equipment. Still each one participates in community outings, science fairs, holiday events and sports. Yes, I said sports. Between the therapists and teachers unique variations of switches have been constructed to allow the students to be active participants. Many of the students have very expensive communication devices that are programmed so they can relay their needs or contribute to a conversation. HollyDELL also has a program for over 21, but transportation is another issue.
During my first year working in this district I learned quickly to have my parents start investigating transition options in the tenth grade for their kids. Since then the district in which I work has gone to great lengths to develop programs within district for Autistic, mild cognitive impaired and moderate cognitive impaired students. Last week I visited the new Life Skills suite which was truly the state of the art. I am very anxious to see the program in operation. It will be great for those still eligible to be in high school. What next?
Fortunately the district has a Parent Advisory Group. I'm not quite sure of it's specific function. Back in the 90's there wasn't such a thing but I did start an Active Parent's Group in our school district where I live. It was very successful providing information and educating the community about persons with disabilities. I figure this Parent Advisory Group probably functions in the same fashion so why not utilize it as a forum for bringing parents together in an effort to brainstorm and come up with a plan to answer the cry for "WHAT NEXT??!!"
Several of the parents I've worked with have their own businesses while others have expertise in other various areas. Some have mentioned starting their own business while others with more severe students are left wondering. The Parents Advisory Group is supposed to have a meeting in May bringing parents together in a united force to address a future for their after 21 kids. As my grandmother drilled into me "many hands makes light work" I'm hoping that will be the case here.
Next week I intend to develop my game plan for the presentation. You would be surprised at how good many of these kids are with the computer and yet have limited access for vocational training in this area. I've talked until I can't talk to various over 21 program directors who are willing to meet with my parents and assist in program developments within their county. I've gone online to find some examples of others who have faced this same predicament and love this one:
Waggies by Maggie and Friends
It will be interesting to see if we can fulfill this quest. Needless to say I'm open to any suggestions or comments that may help.
Graduation is an exciting time for all who have successfully completed the requirements necessary to receive a diploma or a degree. It's a time all parents of all students are proud and ready to celebrate. It's also a day of not thinking about "What Next??!!"
I've always liked graduations so of course I had to make several designs that apparently others like too.
Easily add text to the button below which comes in a variety of school colors. Most of my customers have added such phrases as "Proud Parent of a (school name) Graduate".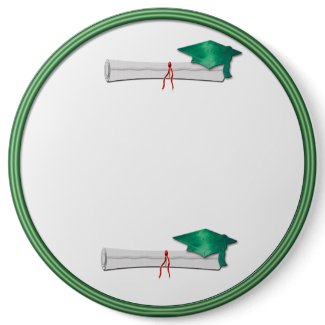 Add Your Own Text Green Graduation Button
by
Firecrackinmama
Of course there will be parties and I've designed quite a few invitations. Many times I'll have someone contact me to develop a customized invite. This is the most recent however the customer never came back to purchase it. Such is life.
Here's the original :
Graduations are a time in which achievement is recognized. I've used this template many times. Or you can easily design your own.
Well back to work updating many of my graduation products and of course adding more.
For now have a Firecrackin Great Day!!