Why is it some nights you sleep like a baby and other nights you wake up and your mind runs in a stream of consciousness about trivial things that you have no control over but keeps you from falling back to sleep? Hmmm... tonight was one of those nights. I woke up at 1:30 am and I'm still up with a full day of work, grocery shopping and mom duties.
I thought if I had my morning coffee and relaxed a bit on the computer I might be able to get a few z's if I went back to bed a 4:00 am and slept till 6:00 am when it is time to get ready for work. Guess not because it's now 4:02 am and I'm on my last cup of coffee.
Well at least I didn't waste all that time on the Internet. I did have some fun with a photo. Someone gave me a picture of their dog, a Scottish Terrier I think. It was really only a head shot with a very dark background. I wanted to extract his head being sure to keep the wisps of hair. It took a while but I finally did it and I think it came out pretty good. You tell me.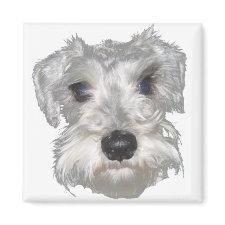 Wired Hair Terrier Magnet
by
Firecrackinmama
Wire Haired Terrier Sticker
by
Firecrackinmama
Wire Haired Terrier Mousepad
by
Firecrackinmama
The only problem I encountered is whether this is really a Scottish Terrier. If anyone can help me out, I'd appreciate it.

The items can be customized. The background color can be changed. Text can be added or the entire image can be removed and a different one added.

So that's how I've spent my sleepless night.

Now I'm off to design a birthday invitation for my son's upcoming 30th birthday party. Wow! 30, who would have thought those years would go so fast?

Have a Firecrackin Great Day!