I've started writing about this several times and yet have found it difficult to finish. I'm wondering why that is and I think it's because there is no ending.
Last week I took a business road trip to visit a school that isn't too far from the Jersey shore. With that said you must know that I used to love the shore. I say "used to" simply because during the summer it has become so overcrowded that it isn't any fun any more, nor is it relaxing.
However Spring was in the air the other day and I was in the mood for the beach. Sorry to say I never did reach it - work. The ride from work to the school is beautiful. There's plenty of farmland, which makes me think of: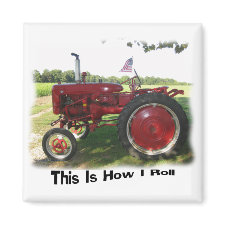 Red Tractor This Is How I Roll Magnet
by
Firecrackinmama
I still pass this old farmer's place every day and hope he'll be back again this year with his produce.
I plan the next time I take my road trip to this school to take some pictures of the farms down that way. My old farmer has the traditional farmhouse, red tractors, and the welcoming feeling of knocking on his door for help. The farms I pass on my road trip have multimillion dollar houses that are mansions in their own right. They look forbidding and intimidating. I'll take some of a few next time too.
The one thing about nearing the Jersey shore is that there are inlets and all kinds of waters with beautiful sights. Since I was short on time I could only quickly pull into the parking lot and get off a few shots.
The parking lot had quite a few Sea Gulls lingering around. Perhaps they were waiting for the dailies to come by and feed them or maybe the fish were getting up for the morning and ready to run. I don't know but I know I disturbed their morning routine.
I couldn't tell whether this particular Sea Gull was posing for me or trying to stare me down so I would leave. Whatever he/she was trying to do, it sure was cute.
I took a couple of more pictures before I went on my way.
I can imagine being retired and living on the water way. I'd get up every morning with my coffee and watch nature come alive in the morning sun. Then take a leisurely walk soaking up the fragrance of a new day. Maybe I'd even go to this park and sit right in the middle and listen to the heavy traffic passing behind me and smile because they were all in a hurry to get somewhere while I sat peacefully enjoying a beautiful day. I might even attempt a canoe ride only because I'm known to tip and some great looking young man might come along and save me. Ah to be young again?
Nope, been there and done that. I'm now enjoying the aging process and the peacefulness it brings with it.
Here's what I missed by not going to the beach: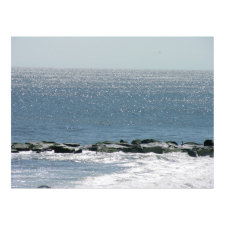 Soothing Waves Print
by
Firecrackinmama
Here's where I'd really like to be though:
Hawaiian Paradise Print
by
Firecrackinmama

Hmm... Maybe next year.

Have a Firecrackin Great Day!