I've had to take some time out from designing for my
Zazzle Gallery
to make my mother's Christmas gift. She is now 88 years young, has everything and wants nothing and loves her Russell Stover's chocolate cover nut candy. Her long term memory is great and she recognizes us all but she can't remember anything new for over five minutes.
I bring her down for dinner every night and we watch Wheel of Fortune before I take her back home. Oh, yes she still wants to be in her home. We've come to realize that taking her out of her routine and environment leads to drastic disorientation. So eventually we'll have people come in to assist her - not yet though.
The holidays haven't seemed to phase her too much. I do wonder what's going through her mind as she sits in the living room with me staring at the Christmas tree while I work on my computer. I'll ask her but I never get a real answer.
Over the past couple of years I have taken all her picture albums and let me tell you there are thousands of pictures dating all the way back to the 1800's and made DVD's for easy viewing. Somewhere along the line my family was keen on tracing their linage through photography. My mother's favorite is the one I did of my father and her's military years. It was the first one I did and the worst one as I was a newbie.
The second one I did for her was of her mother and father as babies through her marriage to my father. I gave her that one on an Easter Sunday and she became so upset we had to turn it off. I had plans to do one of my brother and I from infancy through the passing of my father. However I have hesitated since the result of the previous DVD. So I've taken a chance and am doing something else with the same theme.
Many that have followed my Blogs know that I have been doing wide format printing and making other printable items for several years now. A favorite of mine for a long time has been making booklets of all kind. The last one I did was of my niece's wedding for my mother.
My mother loved it and looks at it often. It was printed on dual sided matte paper and bound in a hard cover. It's easy for her to peruse. So I decided for Christmas I'd order up the hard bound booklets with an open frame on the front cover and make her a printed photo album of my brother and I from infancy on up stopping again at the passing of my father.
I cannot even begin to explain the feelings I have had during this project. She has a ton of pictures that I have separated into the respective years and have placed them in the order of the months. I am now on page 80 and only as far as 1954. I have to go through 1960.
As I began I noted not only my brother and I as babies but the backgrounds included in the photos. Wow, I had forgotten so many of the small items within our house that made it a home. I could actually smell the wonderful fragrance of our house and such a calming feeling of safety and security. Therefore I have been careful to capture the essence of each photo as I have cropped and feathered them.
In 1952 my favorite aunt bought this brand new convertible car and moved to Florida. Be sure to notice how happy she was. In the background is my Grandmother's apartment. She lived on the second floor with a view of our entire street from her living room window. When we were in high school my grandmother would watch out the window every morning and wave to us. She'd be there at lunch time and again after school. It was a happy time.
We went for many a fun ride in that car. My aunt was lively, beautiful and tons of fun to be around. She eventually moved back to Ocean City, NJ with her family.
For those of you from South Jersey catch this July 1953 picture of the beach in Ocean City, NJ.
I long for those days when the beaches weren't crowded! When my aunt moved back to Ocean City, NJ she only lived a block and a half from the beach. You know we had some great times there. My husband's grandparents lived in Avalon on the bay. Many a happy memory there too but the beaches were very crowded.
And for one of the most exciting Christmas ever 1955:
If I remember correctly my grandmother bought us the bicycles. Mine was a blue 20" bike that lasted forever. I remember my father teaching me how to ride without the training wheels. I ran right into a neighbor's tree. He wouldn't let me quit. Instead he took me out back of our house and put me back on the bike. It was a very slight hill, falling didn't hurt as much and I learned how to ride.
Well I'd better go back to work on this project. I'm having a good time taking this trip down memory lane. I don't think people really suffer from dementia. I think that after so many years your memory becomes so full that there's no more room to store thoughts. Like a computer.
I've started using some of the old photos. Why let them just sit, lost in the memory of a computer.
I asked my mother if I could use this picture of my father during the gas crisis. Note how much gas was back in 1942: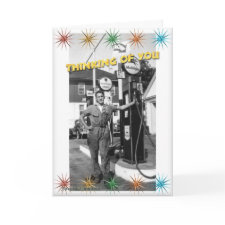 Gas Pump Thinking of You Card
I think I'm keeping the family tradition of memorializing our lives through photography. The digital life is soooo much easier. I had thoughts of doing a booklet for each of my kids until I saw how many pictures my mother has of each of them. Have to say if she hadn't kept a photo log of their lives, there would be very little to memorialize them. I am getting wiser as I get older.

For now have a Boomin great Sunday!!