I have a small life anymore and I'm quite happy with it. I can't tell whether the happiness comes from getting fat sitting in front of a computer when I should be exercising or that I have finally just become happy with myself and my life. Whatever it is here's a drink to it!
With holidays coming quickly that's about as close as I can come to having a drink cause nothin will get done if I indulge. But I love this apron simply because I find myself wearing old clothes when I entertain while everyone else is dressed to the nines so now there's no excuse not to look good.
I don't like parties unless I'm hosting them. I must be socially maladjusted as I like people, like to talk to them but I just don't like parties. I am so afraid an invitation like this might come in the mail.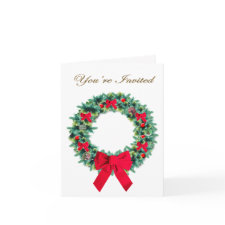 Decorated Wreath Invitation
by
FCM_Christmas
My husband would insist that we attend but I don't want to. So in protest I'd probably dress like this.
Christmas Candy Cane Shoes
by
AuntBetsy
One of the highlights of the holiday season is Rum Cake Saturday which usually falls on the weekend before December 23. Yep, one of my favorite holidays! Back in the old days when my husband was a supervisor, or some such thing where people worked under him, he needed a holiday gift for them. I had been making Rum Cakes for all my colleagues so he thought it might be nice to make them for his. Oh, I remember that first year so well. My mother helped me make 125 Rum Cakes and wrap them with a ribbon.

This became a tradition and people expected their Rum Cakes whether they were still working with us or not.

One of the funniest years was when I was working in Galloway Township. I had made close to 50 Rum Cakes just for that gang. At the time I was driving my husband's mid life crisis car, a Buick Reatta. What a great car and could it go, particularly on the AC Expressway. Sometime I tell you about how I had a police escort down the AC everyday, but not right now. Anyhow as I was taking this 1 hour ride, I could smell the Rum growing stronger every mile and of course I was following my police cruiser. By the time I got to the toll booth the cruiser would peel off and I'd pay my toll. No Easy whatever that's called. Obviously I still don't have one. I lowered the window to hand the toll guy my mone, he took one step back and yelled, Wow!" I slipped him a Rum cake with the money and he became my friend forever.

I've been doing this now for over 25 years and everyone always wants a cake from the last batch. Hmmm... I wonder why? And they always tell everyone not to eat and drive after having one of my Rum cakes. Even I do that now.

You know when you put so much work into making everyone happy but suffer yourself so much the next day, something has definitely got to be wrong with your thinking habits. Age has tempered my indulgence when making these delicious morsels. Mmmmmm...

I guess the most ironic part is that my husband has his own business in which he is the only employee and I have a job in which I don't have more then 10 colleagues that I would give a Rum cake. So last year I thought I was off the hook for making dozens of Rum cakes - NOT. My kids now request them for their colleagues so I guess we'll be having another Rum Cake Saturday this year too. :)

Presentation of gifts has always been important to me as well. Since I had so many cakes we used to use carry all bags with handles. However when I started at Zazzle last year I bought myself this to carry my cakes.

I thought I was the only clever one - NOT!

MERRY CHRISTMAS GINGERBREAD HOUSE by SHARON SHARPE
by
sharonsharpe
Rum cakes are expensive by the way and the holidays are stressful. We don't do as much as we used to. Wisdom does come with age. When the kids were young and we were buying for half the people who lived in NJ it would take us the whole year to get out of debt in order to start all over again. Then half the people we bought for never used what we bought them, re-gifted the items or threw them out. Really irritated me. Of course there are those who have everything and you just don't know what to buy.
Well the Internet and my
Firecrackinmama's Zazzle
has taken care of many of those problems. All the way from making my own greeting cards, which we never sent until last year, to creating more meaningful gifts.
I'm not good at making t-shirts but I've found others who are and many who want to create their own. And now not only can people shop for unique and custom designed items that can't be found in stores but they can create and design their own calendars, neckties, Keds, canvas bags, skateboards, aprons, mousepads, posters and so much more at:
So by now anyone reading this is wondering just what is so Big in my day in a Small life. Well it's because today I mail out my postcards to people across the country inviting them to
Firecrackinmama's 2nd Online Christmas Party!
Just click on the invitation below and you can come too!
Samples of items from a few distinguished galleries are available for you to see. Just click on the same invitation as above on that page and you'll be able to view their flash panels chock full of neat and unusual gifts for really any occasion but mainly thinking about the holidays.
These postcards reach thousands of people on their short journey to the specific person thus inviting those who see them as well. What even makes the invitations more special is that each has a matching postage stamp saying I really think you are special.
Although the one below is for $.42 you can change the amount by simply clicking on customize and make it $.27 for postcards or increase it for other size mail. Really a Firecrackin neat thing!
So, yep, this is certainly A Big Day In A Small Life for me!